Nottingham Forest and Lenton
The 1889-90 season had been a poor one for Nottingham Forest Football Club. The Club's committee resolved to make changes. One was to seek out a new ground. A field was found in the Meadows and the necessary preparations carried out. In October 1890 everything was ready and 'Forest' vacated their old ground here in Lenton. One hundred years on it is a timely moment to recall the story of Nottingham Forest and Lenton.

Something akin to football had been played almost since time immemorial but in the mid-nineteenth century a version of the game became popular in the public schools. It was frequently ex-pupils and their friends who were instrumental in establishing the early clubs which started to play one another. For a couple of years a group of young Nottingham men, drawn from the professional classes, had begun to meet in The Park and play informal games of football. In 1864 the decision was taken to formalize proceedings and the club known as 'Notts County' came into being. Across on the Forest racecourse a group of young gentlemen who had hitherto played shinney, a form of hockey, decided in 1865 to try their hand at football. They duly established a club which they named 'Nottingham Forest'. A set of red flannel caps were purchased to aid identification on the pitch and red has remained the club colour down to the present day.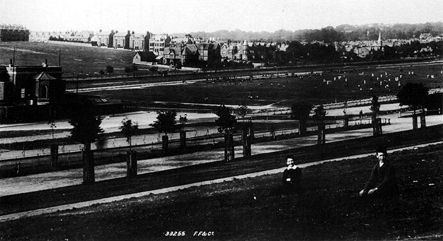 The Forest racecourse ten years or so after Nottingham Forest had ceased
to play there. Photograph courtesy of Nottingham County Library Services.
There were many different variants of the game being played in those early days, but they were all a mixture of what we would now recognise as soccer and rugby. A Football Association had been formed in 1863 by a small number of southern based clubs, essentially to obtain common agreement as to which rules they should play by. Nottingham Forest just challenged other local teams until 1868 when it joined the Sheffield Association in order to widen its choice of opposition. At this time Sheffield rules permitted 'hacking' where kicks need not be confined solely to the ball. Players must have been fortunate indeed if they left the field after a 'Sheffield' game without their shins covered in bruises. Different sets of rules persisted but after the Football Association adopted some of Sheffield's ideas, most notably the use of the corner kick (but not hacking), their rule book became widely accepted and by 1882 just one set of rules for playing 'association' football was adopted nationwide. (1)

Just as the rules were gradually evolving so the tactical approach used by teams began to change. In the Midlands and the North players favoured 'kick and run' with a goalkeeper, two backs, one half back and seven attackers. In 1873 the Royal Engineers embarked on a tour of the North and agreed to play Nottingham Forest. The Engineers won 2-1 and their style of play impressed Forest and in particular their captain, Samuel Weller Widdowson. Inspired by what he saw, it was Widdowson who subsequently persuaded Forest to adopt the formation: goal keeper, two full backs, three half backs, and five forwards which was to become the standard pattern of play for all teams until comparatively recent times. The following year Widdowson ushered in a further innovation when he appeared in a match wearing a pair of cut down cricket pads strapped to the outside of his stockings in order to protect his shins. Other players soon started to copy this idea and Sam Widdowson took out patents on his 'shin-pads'.

Each summer, club secretaries would spend time arranging fixtures for the coming year. If a club's results had been good the previous season it improved the chances of attracting matches against more prestigious opposition. In order to do well against a 'quality' side it would then be common practice to enlist the help of players from other teams. So it's not surprising to find the likes of Sam Widdowson turning out for Notts County and County players appearing in Forest's colours. Restricting a footballer's activities to one club was still some way off.

Interest in football began to spread to all social classes. Working class men did, however, need to have jobs that gave them Saturday afternoons off and the money to pay club fees. In the case of Nottingham Forest subscriptions were initially set at Is. a week later rising to 5s. a month with the extra requirement in 1875 that an entrance fee of 10s. be paid when first joining the Club. Nobody, we should add at this point, was yet being paid to play. Moreover those spectators who came along to watch Nottingham Forest were not asked to pay though it was customary to pass a collecting box around.

In the 1878-9 season Nottingham Forest entered the English Challenge Cup competition (now called the F.A. Cup). In the first round Notts County were their opponents. The match was played at County's ground which was now out at Beeston. Challenge Cup rules stipulated that spectators be charged entry to the game. It may well have surprised both clubs that over 500 people were quite prepared to pay to watch them play. Forest won 3-1 and then went on to beat the Sheffield Club, the Old Harrovians, and Oxford University before losing 2-1 in the semi-final to the eventual winners, the Old Etonians. This Cup run highlighted the fact that the Club really needed a better home venue than the Forest Racecourse. Certainly the following season found them playing in the Meadows. The exact location of this ground is unclear but Forest only stayed there for one year before taking up residence at Trent Bridge cricket ground.

During this short stay in the Meadows Nottingham Forest won through to the semi-final of the Challenge Cup for a second successive year. This time they lost 1-0 to Oxford University. 1879-80 was also Notts County's worst ever season, so Forest had every reason to claim the title of Nottingham's premier team and be ranked among the leading clubs of the day. Forest's Cup exploits also served to get their players noticed and A.C. Goodyer, J. Sands, E. Luntley and Sam Widdowson were all called upon to play for England in at least one home international during 1879 and 1880.

Section of the Ministry of Health map of
Nottingham (1882) showing Cobden Park. Courtesy
of Nottinghamshire County Library Service.
After those initial games in The Park, Notts County spent thirteen years playing at the Meadow Cricket Ground before choosing to move out to the Beeston Cricket Ground in 1877. In 1880 they were back in the Meadows, this time at the Castle Cricket Club's ground; just as Forest were departing for Trent Bridge. It had been that final year at Beeston when County experienced their worst ever season, managing one solitary victory. Eager to ring the changes, the 1880-81 season saw Notts County not only at a new ground but also sporting shirts, half chocolate half Cambridge blue, instead of the amber and black hooped ones the team had formerly worn. Whether it was the new ground, the new strip or just the arrival of new players, something did the trick and County began to get results again. Admittedly not against Aston Villa in the third round of the Cup, when Villa won 3-1. There was, however, the compensation of the largest football crowd yet seen in Nottingham, some 4,000 spectators. One game that did go Notts way, and one that must have given them much satisfaction, was their 1-0 defeat of Forest.

The following season Notts County came close to disbanding. The Club had carried a sizeable debt arising from two ill-fated athletic sports events back in 1867 and 1869 which had lost them some £60. A crisis meeting was convened in 1881 at the Lion Hotel, Clumber Street, to discuss the matter. After initial doubts about the advisability of continuing, the mood of the meeting changed and the members resolved to carry on. The 1882-83 season fully justified that resolve. County's first team enjoyed their best season to date, which included reaching the English Challenge Cup semi-final, losing 2-1 to the Old Etonians.

The number of people watching football matches began to rise quite dramatically during the late 1870s and early 1880s. Saturday had become a half holiday for increasing numbers of working men and it was from this class that the bulk of the new spectators were drawn. Once clubs realised that these spectators were willing to pay they started to charge entry to the game. To begin with spectators simply stood behind a rope round the edge of the pitch. Only in the 1880s, in particular, did clubs start to put in earth mounds on which those watching might stand and get a better view of the game. Occasionally there would be wooden terracing and sometimes small grandstands in which people might sit protected to some extent from the elements and, because an extra charge was levied for this facility, separated from those of a lower social status.

Nottinghamshire County Cricket Club had achieved considerable success throughout the 1870s and various improvements had been carried out at Trent Bridge. So when Nottingham Forest obtained the use of the ground in 1880 they acquired the best sports venue in the whole town. It must therefore have been something of a disappointment for Forest that this arrangement should only last three seasons, made more bitter by the knowledge that they had been usurped by their rivals, Notts County. In 1883 County created the post of paid secretary and chose to employ Edwin Browne, who just happened to be assistant secretary to Notts County Cricket Club. With Browne's connections it ought to have been easy enough for him to ensure that it was County rather than Forest who hired Trent Bridge during the winter months.

Nottingham Forest appear to have realised that they needed to find a new ground early in August 1883. This left very little time before the new season got underway. Existing grounds had already been commandeered for the coming season so the field in Lenton which Forest eventually selected was probably the best of an extremely limited choice.

1990 view looking down on the area where we initially thought the
Parkside Ground might have been situated. Photo taken by Paul Bexon.
The Parkside Ground, the name Forest gave to their new home, was situated to the north of Derby Road almost opposite its junction with Willoughby Street. In all likelihood the ground was actually set well back from the Derby Road. Contemporary newspaper accounts describe the ground as having entrances both from Lenton Sands (Derby Road) and Ilkeston Road. There is also the choice of name. It may have been chosen simply because of a rough proximity to the Park Estate, but a more convincing explanation is that the ground stood close to 'Cobden Park', the name given to the cluster of streets to the south of Ilkeston Road centred on Salisbury Street. If this is so, then it would mean that part of Sandfield School, possibly a portion of Radford Recreation Ground, and perhaps even Lenton Boulevard (*) now stand on what was once the Parkside Ground. Since there are no maps showing the exact location and the Club itself has no surviving records from this era, it's rather difficult to be more precise. (2)

(*) This section of the Boulevard would only have been built after 1886, when Forest were already playing elsewhere.

While acknowledging that Forest didn't really have much choice in the matter, the newspapers of the day weren't very impressed with the Parkside Ground. It was, they thought, too far out of town; the pitch sloped badly and the playing surface was very uneven. They compared it with Trent Bridge and found it wanting in all respects. One commentator suggested that Forest would need a strong and successful team to entice the public out to Parkside and by implication away from County. (3)
No Trouble?
It would seem the fear of crowd trouble at football matches is not such a recent phenomenon. The report in the Nottingham Journal for 31 March 1884 on the Forest v Aston Villa match included the following extract 'The bad behavior of a Birmingham crowd to Notts men on a recent occasion led many to think there would be a 'scene', this being the first visit of the premier Birmingham club to the town since the outrage committed on the occasion of the semi-final for the English Cup,' when Notts County lost 1-0 to Blackburn Rovers at Villa's ground. 'But happily nothing in the nature of retaliation arose amongst Nottingham men, and the extra force of police (some sixty in number) it had been deemed advisable to have on the ground did not find the slightest employment. There's no reason to suppose it was the expectation of crowd trouble that kept them away but four of Aston Villa's team failed to turn up. Four Nottingham men substituted for them and the visitors still managed to win 2-0 in front of a crowd of 5-6,000.
The first ever home game at the Parkside Ground was on 22 September 1883 against Small Heath Alliance (later known as Birmingham City) and 'a large number of spectators' were attracted along to watch Forest win 3-2. There were sizeable crowds at four other home games in that first season at Parkside. These were Aston Villa 5-6,000 (0-2), Notts County 5,000 (0-0), Dumbarton 3,000 (2-3) and Blackburn Rovers 2,000 (2-2). All attendances are taken from newspapers and most likely are merely the reporter's own estimate of crowd size.

Fairly paltry attendances, of between a few hundred and one thousand, were given for the other home games. Towards the end of the season one newspaper columnist commented 'ill luck has hovered over the Parkside Ground. More often than not when good matches have been played there this year we have seen the pleasure of the spectators spoilt by bad weather to say nothing of the crowds who have been kept away by the same cause'. He also considered 'the members of the Forest Club will be heartily glad when the season is over'. To rub salt into the wound Notts County were having another excellent season with huge crowds (up to 12,000) attracted along to their Cup matches, when once more County won through to the semi-final, only to lose, this time 1-0 to Blackburn Rovers.

However disappointed Nottingham Forest might have been with Parkside the fact that the Club had spent in the region of £300 on construction work at the ground was probably sufficient argument for giving it another year. But the crowds were even smaller the following season. After a game against Small Heath Alliance in December 1884, when admittedly the rain had been torrential, a newspaper columnist was prompted to comment, 'So long as the Forest Club will maintain a ground on which it is impossible for them to play their particular game accurately in addition to being bleak and generally inaccessible, they will meet with little patronage. Considering the weather which prevailed it was astonishing to see so many as 150 people at Parkside, but had it been ever so fine I very much question whether it would have influenced the attendance to any extent'.

A Nottingham Forest match card in the days
when they played at Parkside.
Reproduced with permission from Peter Tozer.
Even though Forest were not attracting the masses along to Parkside, on the pitch itself they were enjoying considerable success. It was now their turn to reach the semi-final of the Cup. In the run-up to this match a combination of adverse weather conditions and away matches had generated only modest gate receipts, but the semi-final against the Scottish aces, Queens Park, was held at Derby Cricket Ground. No great distance for Nottingham folk and they clearly made up the bulk of the 10,000 crowd that went along. The game ended in a 1-1 draw and a replay was required. This time Merchiston Castle Ground in Edinburgh was chosen. Newspaper reports may have exaggerated a little but it was claimed that over 800 Forest supporters travelled up by train to Scotland in order to watch the match. Sadly they saw Forest well beaten 3-0. They didn't even have the satisfaction of watching the eventual Cup winners as Queens Park lost in the final 2-0 to Blackburn Rovers.
With the Woolwich
Soon after the semi-final match with Queens Park in 1885 Forest's first choice goalkeeper, Fred Beardsley, and fellow Club member, Maurice Bates, obtained employment down at the Royal Arsenal depot in Woolwich. It was not long before Beardsley and Bates had gathered together a number of mechanics within the depot who were keen to play football. In January 1887 they formed themselves into the 'Royal Arsenal Football Club'. Forest were approached for the loan of some playing kit and the Club was happy to oblige. The borrowed kit may have been returned but the colour combination evidently stuck, for the Club, now known as Arsenal F.C., still play in red shirts and white shorts.
The only money the players of Queens Park and Nottingham Forest had ever received from their respective clubs had been given to reimburse them for hotel and travelling expenses. Both clubs felt strongly that football should be strictly an amateur pursuit. Other clubs held different views on the matter. In the early 1880s a number of northern clubs, many of them in Lancashire, began to offer players money to play for them. No-one admitted to these payments but everyone suspected they were taking place. In January 1884 Preston North End were charged with having professionals in their team and excluded from the English Challenge Cup. Thirty six prominent northern clubs immediately announced they intended to leave the Football Association at the end of the season and form an organisation that did permit professionalism. Faced with the prospect of a major split in the sport, delegates to the AGM of the Football Association, held the following month, recommended that professionalism be made legal. An amendment also passed at this meeting required that a sub-committee be set up to decide how best to go about the business of legalising professionals. This gave clubs opposed to the change a chance to mount a rearguard action but they failed to win the day and in July 1885 it became legally permissible to be a professional footballer. Forest stayed true to their principles and chose not to engage paid players. Notts County had no such scruples and six team members were soon registered as professionals.

One big change Nottingham Forest did institute for the 1885-86 season was to move grounds. They didn't go very far, selecting the Gregory Ground used by Lenton United Cricket Club. If we aren't entirely sure about Parkside's exact whereabouts there are no such doubts about the Gregory Ground. Lenton United continued to play cricket here each summer until 1969 when the ground was compulsorily purchased by Notts County Council and the cricket club moved out to a new site down by the Trent. Now used as a school playing field the Gregory Ground lay on the opposite side of Derby Road to Lenton Recreation Ground. The Raleigh factory, the houses on Cycle and Johnson Roads only arrived after Forest's departure and in all likelihood the original Gregory Ground was somewhat larger than the present playing field.

Pupils from Lenton and Edna G. Olds Primary Schools playing football on the pitch
that was once Nottingham Forest's second Lenton ground.
The Nottingham Journal for September 24 1885 carried a description of the new ground. Forest had only settled on the new venue in August but, according to the newspaper had managed to effect 'a wonderful transformation' in a matter of weeks. Several ridges had been removed and the ground made as nearly level as possible. A playing area of 115 yards by 75 yards had been created with a metal rail all the way round the edge of the pitch. The ground was enclosed by a fence with an entrance used by carriages and turnstiles for those on foot. A second entrance could be brought into use when a large crowd was expected. Wooden stands capable of accommodating 2,500 spectators had been erected with a further 500 'seats' set aside for members of the Club. The old pavilion and dressing room had been brought across from Parkside and the general public even had their own refreshment booth. All this construction work cost Forest nearly £400. The Club also did their utmost to improve general access to the new ground. The Midland Railway Company had agreed that all passenger trains using the nearby railway line would stop at Lenton Station on match days. An omnibus operator was found who would run buses every quarter of an hour from the top of Mansfield Road while another operator ran 'buses every five minutes from the Walter Fountain, Carrington Street out along the Boulevard to the ground.

The first home game took place on September 1885 when over 2,000 people watched Forest beat Stoke on Trent 4-1. If the local newspapers had been damning about Parkside the reporters were full of praise for the new ground. They considered it was situated in a much more sheltered position and the playing surface far superior. A bed of gravel lay a few feet underground and this ensured that any downpour quickly soaked away. Forest even installed a special box in which football reporters could watch the match; a facility that Notts County had yet to proffer. Perhaps this last feature unduly influenced their judgment but some actually acclaimed the Gregory Ground as among the best in the country. In November almost 10,000 spectators were drawn to Lenton to watch Forest play Notts County, even though 'a gale raged' throughout the afternoon. County supporters went home the happier as their team won 4-1. A similar sized crowd turned out for the return match at Trent Bridge in January 1886 and this time Forest got ample revenge winning 5-0.

Section of Bacon's Plan of Nottingham c.1890
showing the 'Gregory Football Ground'.
Reproduced courtesy of Nottinghamshre County
Library Service.
Other leading clubs which came to the Gregory Ground in that first season included Aston Villa (0-0), Blackburn Rovers (4-0), Bolton Wanderers (0-7), Cambridge University (1-5), Glasgow Rangers (2-2) and Preston North End (1-4). None of these matches attracted many more than 2,000 spectators, though there were extenuating circumstances such as bad weather or the visitors failing to bring their strongest team. The second best crowd of the season (4,000) didn't actually come to watch Forest but turned up one Thursday afternoon to see the Corinthians and Queens Park play the second of three challenge matches organised as part of the teams' Easter tours. Corinthians won this particular match 2-1.

The Corinthians were drawn from the ranks of former university and public school men who customarily played for other clubs. One who would have been well known to the Gregory Ground crowd was the Notts County forward, Harry Cursham, who had first won an England cap back in 1880. There was a second local player in the Corinthian team. This was Tinsley Lindley who was just embarking on an illustrious international career with England which lasted until 1891. Lindley has the distinction of scoring in nine successive internationals, a feat which an English player has yet to better. He was reputed to be the fastest sprinter of his day and preferred to play football in ordinary walking shoes as he considered boots slowed him down too much. When not turning out for England, the Corinthians or Cambridge University, Tinsley Lindley played centre forward for Forest. He scored 85 goals for Nottingham Forest in a career which took him through the 1880s and into 1890s. His last game for Forest was in 1892 against Walsall Swifts. Two other Forest players were awarded an England cap while the club was at Lenton. These were Thomas Danks and John Leighton, both in 1886; while Frank Burton won an Irish cap in 1889.

If Forest were a little disappointed that the Nottingham public wasn't turning out in large numbers to watch some of the top clubs of the day play at the Gregory Ground, no mention was made of this fact at their AGM in August 1886. It was, however, stated that, 'despite the heavy expenses incurred in connection with the new ground, the finances of the Club stood in a very healthy condition'. So perhaps Forest genuinely felt there was no cause for alarm. As yet the Club had no wage bill to meet and, if the gate money didn't quite cover expenses, any deficit was more than made up by the profits generated at the annual sports day put on at the end of each season. Started in 1870 and held at Trent Bridge cricket ground on the last Saturday in April, the Nottingham Forest Club Athletic Sports was invariably a big success with 10,000 or more paying spectators attracted along to the day's events.
Advert for Nottingham Forest's Sports Day taken
from the Nottingham Express May 1st 1886,
courtesy of Nottinghamshire County Library Service.
The second season at the Gregory Ground followed much the same pattern as the first. Forest enjoyed a fair degree of success on the pitch (out of a total of 31 games played, 16 were won, 9 lost and 6 drawn, with 102 goals scored and 22 conceded), but the only match to attract a large attendance was that against Notts County when 9-10,000 people saw County win 2-1. Notts County managed to get to the quarter finals of the Cup losing 4-1 to West Bromwich Albion but, this apart, suffered a fairly disappointing season. Their statistics read played 35, of which 13 were won, 16 lost and 6 drawn. 98 goals were scored and 102 conceded which included a record 14 goals in the 14-0 defeat at Preston North End.

In the early weeks of the 1887-88 season one newspaper pundit in the Nottingham Express suggested that Nottingham Forest appeared to be the best local team and his observation seemed to be born out when Forest subsequently beat County 2-1 at the Gregory Ground in the second round of the Cup before 10,000 spectators. The following Saturday an equally large crowd saw the two teams meet again, this time without the Cup at stake, and County gained some revenge winning 1-0. Three weeks later came the return fixture at Trent Bridge. The 0-0 result meant that neither team was yet entitled to claim to be Nottingham's number one club. In terms of popularity, however, there was no contest. On December 12th 1887 both teams played in Nottingham. At the Gregory Ground 500 people saw Forest beat Accrington Stanley 2-0 while 3,000 had gone to Trent Bridge to watch Notts County beat Blackburn Rovers 4-2. Following these matches the Nottingham Express columnist stated, 'There is no question which is the most popular ground. One's feet seem naturally to take the body in the direction of Trent Bridge'. Perhaps the Nottingham public felt chided by his remarks because the following week 5,000 turned up at Lenton to see Forest beat Old Etonians 6-0, and 'a very enthusiastic crowd' of 8,000 later watched Forest lose 4-2 to Sheffield Wednesday in the third round of the Cup. Thereafter interest appears to have subsided and the remaining games attracted only 'moderate attendances'.

The Nottingham Forest first team in the late 1880s. Players are thought
to be (Back Row) H. Pike, F. Fox, O. Tutin, T. Hancock, T. Lindley, and
Club Referee. (Middle Row) F.E. Burton, S. Norman, C.J. Caborn, T. Danks.
(Front Row) H. Billyeald, A. Pike, E. Leighton.
Photograph reproduced courtesy of the Keith Mellor collection.
By the end of the season it was clear that both local teams had enjoyed fairly undistinguished seasons. Of the 29 games Forest played, they won 12, lost 13 and drew 4. 45 goals were scored and 54 conceded. County's figures reveal they played 34 games but only won 11 of, them, lost 17 and drew 6. Goals for were 84 and 100 against. How Forest and County fared during this season and the previous one are significant considerations when one examines what subsequently transpired. Aston Villa's chairman had contacted a number of the leading clubs with the idea of forming a league. Clubs had experienced a general falling off in attendances at inter-club matches, when compared with Cup ties, and it was felt that a league would stimulate public interest. The teams would play each other on a home and away basis and initially it was envisaged any gate money taken at a match would be shared equally between the two teams. Before the league got underway this rule was amended so that the home team took all the receipts but gave the visitors £15. Nevertheless the size of home crowds figured prominently in the discussions as to which clubs should gain inclusion in the proposed league. Forest's last couple of seasons had been relatively unexceptional but then so too had County's. Yet Notts County found themselves in the league and Forest didn't. The Trent Bridge crowd clearly tipped the balance in County's favour. Other founder members of the league were Accrington Stanley, Aston Villa, Blackburn Rovers, Bolton Wanderers, Burnley, Derby County, Everton, Preston North End, Stoke, West Bromwich Albion and Wolverhampton Wanderers. Significantly these were all clubs that had embraced professionalism and included paid players in their teams.
Football Fatality
In March 1887 Trent Bridge was the venue for one of that season's Cup semi-finals. This one was between Preston North End and West Bromwich Albion. 16,000 spectators entered the ground and some in order to gain a good view of the play clambered on to the roof of a refreshment booth while others climbed into the boughs of the trees at the 'Gamston Lane' end of the ground. One of the later was Joseph Walter Pym, a bricklayer's labourer, of Mitre Terrace, Commercial Street, Lenton. Unfortunately he slipped off the branch he was perched on and fell to the ground. It was immediately evident that Pym had suffered major injuries and he was conveyed away from the ground in a cab. The hansom cab was making for a police station when Pym indicated he believed he was dying and wished to be taken home. The request was acceded to and he died soon after arriving at Commercial Street. Notts County F.C. opened a subscription list of donations for Pym's wife and children. The Football Association handed over £10 and Notts County and Forest both added their own contributions.

West Bromwich Albion won the match 3-1.
Nottingham Forest began the 1888-9 season by losing 7-1 away to Birmingham St. George's but there were extenuating circumstances. Three first team players had been unable to get leave from work, one was on holiday, and two were helping at Nottingham Rowing Club's regatta. Added to which three players then proceeded to miss the train. The opposition lent Forest two players while a former Notts Rangers player who now lived in Birmingham was stuck in goal. Given such circumstances a 7-1 defeat was not too bad. Forest had experienced considerable difficulty sorting out their fixtures for the coming season. But in the end league opposition in the form of Aston Villa (1-2), Preston North End (0-2), Bolton Wanderers (1-4) and Notts County (3-0) came to the Gregory Ground. Glasgow Rangers (2-1), London Casuals (1-4), Newton Heath later known as Manchester United (2-2), and Sheffield Wednesday (1-3) also paid a visit along with a number of less well known clubs.

In the Cup Forest's first opponents were the Belfast club, Linfield Athletic. The game at Lenton ended in a 2-2 draw, necessitating a replay. Linfield decided to withdraw from the competition but only after Forest had set off for Ireland. They arrived to find their long journey had been quite unnecessary but agreed to play Linfield in a friendly which the Irish club won 3-1. In the second round Forest drew 1-1 away to Chatham and then 2-2 at the Gregory Ground. The referee in the Lenton game had requested the teams to play a second period of extra time but Chatham refused and walked off leaving Forest on the pitch and the crowd in a state of high excitement. The Football Association agreed with Chatham that the referee had asked too much of the teams and ordered a further replay at Chatham. Forest lost 3-2.

Once the league fixtures had been completed Burnley, Derby, Notts County and Stoke found themselves occupying the bottom four places and required to submit themselves for re-election. Nottingham Forest could have harboured few hopes of taking over from one of these clubs, given the poor results for the 1888-89 season. Of the 40 matches played they only won 10, lost 24, drawn 6, scoring 66 goals, conceding 92. All four league clubs were re-elected although it was quite close for Notts County; the seven votes they received were only two more than Birmingham St. George's, the nearest non-league club. Clubs that had been unsuccessful in their bids to join the Football League then held a meeting in Manchester and resolved to form their own league which became known as the Football Alliance. The twelve clubs involved were Birmingham St. George's, Bootle, Crewe Alexandra, Darwen, Grimsby, Newton Heath, Nottingham Forest, Small Heath Alliance, Sheffield Wednesday, Sunderland, Sunderland Albion and Walsall Swifts.

Advertisements from the Nottingham
Express 29th September 1888 publicising
Notts County and Forest's forthcoming
matches and their charges for season
and members' tickets.
(Nottinghamshire County Library Service).
Soon after the inception of this new league Forest held their AGM, but the main talking point was the Club's poor season and what should be done to rectify matters. Forest had seen several leading layers leave to join other clubs willing to offer them payment for playing, while other club stalwarts had ceased to play through accident or pressure of work and it had proved difficult to attract adequate replacements. £140 had been lost on the season and although there was still £136 left in the reserves the Club secretary, Mr. C. Rastall, announced he intended to resign his position. Speaker after speaker argued that Forest must now accept professional players in their midst or suffer the consequences. When the proposal on professionalism was finally put, the meeting overwhelmingly voted in favour.

In the run up to the 1889-90 season the newspapers were full of rumours. One suggested that Forest had registered half a dozen men as professionals. Another claimed that two Scottish professionals, Adam Scott and Matthew Rauke had been signed from Albion Rovers. Adam Scott did later play for Nottingham Forest but neither footballer appeared on a Forest team sheet that particular season. In all likelihood payments may have been made to one or two existing Forest players, but it seems the Club failed to register any 'top' footballers. After a promising start in the Football Alliance Forest gradually slipped down the league table and finished the season second from bottom.
A Light Night
In March 1889 over 5,000 spectators watched Forest play Notts Rangers. It wasn't the opposition which drew the crowds so much as the novel circumstances under which the match was played. It took place at night! Placed around the ground were 'fourteen portable lights each up to 14,000 candle power from oil'. They ought to have given adequate illumination but as the Nottingham Guardian for 26 March 1889 explained, 'a strong wind was blowing from the Radford goal, and this caused the lights on the town side to shed a considerable portion of their radiance on the adjoining fields, so that dark shadows were often thrown upon the playing ground and it was almost impossible to see a case of handling unless the officials were close to'. Forest lost 2-0 and the Club didn't try to mount any more night-time matches until 1961.
When the other matches were added on the Club's statistics for 1889-90 read as follows: of 38 matches played 10 were won, 21 lost and 7 drawn. Goals for were 49, goals against 102. (Forest suffered their worst ever defeat this season going down 12-0 away to Small Heath Alliance). The poor season was also reflected in the size of the gates which one newspaper described as 'wretched'. In February 1890 the members called a meeting to consider the Club's future. It was decided to establish a 'guarantee fund' which the committee could draw on if necessary. Subscriptions amounting to £350 were raised on the night and presumably other donations arrived later. The Forest committee were also urged to engage the very best players they could for the coming season. Club members, it seems, were determined to see Forest successful once again.

Part of the proposed recovery package appears to have been the acquisition of a new ground. In July 1890 Forest obtained 'Councillor Woodward's field' at the end of Arkwright Street in the Meadows and proceeded to have it laid out for football. While something in the region of £1,000 was being spent on the Town Ground, as it became known, the committee scoured the nation for new team members. Three Blackburn Rovers players agreed to come to Nottingham but were barred from doing so because the Lancashire club had already submitted their registrations to the Football Association. This resulted in a court case which went against Forest. Eventually a number of Scottish players, including several from Glasgow Rangers were signed up.

The Town Ground wasn't quite ready for the start of the 1890-91 season, so Forest's initial Alliance fixtures were played at Lenton. Queens Park had been invited down for the first match at the new ground and a 'wonderful number of holiday makers' enjoying Goose Fair Thursday watched Forest win 4-2.

Forest's connection with Lenton was now severed. Ahead lay the Alliance Championship of 1892-93, their subsequent election to the Football League, the Cup success of 1897-98 and their final move to the City Ground. But all this lies beyond the brief of this article. If you wish to learn more we recommend you read Forest 1865-1978 by John Lawson and The Garibaldi Reds by Keith Mellor.


---
1 - Nicola Anderson questions whether Nottingham Forest had actually adopted 'Sheffield Rules' by this particular date. citing the following extract from Nottinghamshire Guardian, January 21st, 1870.

Nottingham won the choice of goals and elected to kick with the wind which was blowing so as to give them an advantage over their opponents; and besides the wind being in favour, they were playing their own rules which the Sheffielders were not "well up" in.

She suggested that had Forest been part of the Sheffield Association at the the time, you would have expected them to play the Sheffield Rules against a fellow member, whether home or away.

2 - In Issue No.5 we ran a correction regarding the location of the Parkside Ground. It was in fact located slightly further up Derby Road, more or less where Rothesay Avenue is now to be found.

3 - Nicola Anderson also provided us with a little more information about the Parkside Ground courtesy of The Nottinghamshire Guardian, September 28th 1883. Under a heading of SPORTS AND PASTIMES -THE NEW LENTON SANDS GROUND

The Forest Football Club are likely to find the drawbacks of their new ground at Lenton Sands a little more real than some of the members are at present disposed to imagine. There is, indeed, something in a name when it is that of a popular and well-known enclosure like Trent Bridge, and the public, whom it is desirable for pecuniary and other reasons to attract, will hardly seek for the Park Side Grounds when a match is being played at the other place so long identified with the wearers of the familiar red jersey. To popularise the new ground in the sense that Trent Bridge was and is popular with those whose sympathies are not strongly in favour of the Forest Club or anyone connected with it is the exercise of the utmost business fact combined with a strong and successful team will certainly be required. At the beginning of the season it is not fair to judge of what the Forest first team will ultimately become. Last winter the eleven opened the campaign in somewhat indifferent fashion, but towards the close of the season they were so strong that they could play a drawn game with their old rivals of the Notts. Club. Owing to a variety of causes some fresh blood has had to be imported into the first eleven, who managed to beat the Smallheath Alliance on Saturday last by three goals to two. W. Luntley and E. Luntley played well as did F. Fox on the right wing, but F. Earp was hardly at home in his new position as centre forward, and on several occasions was amongst the sides instead of keeping his place in the middle. When he has grown accustomed to his new duties, however, Earp may prove an exceedingly useful man. The team require a good deal more practice than they have yet had together, and need to mend materially if they are to be quite certain of getting past the first round in the English Cup Competition. The Park Side Ground besides being rather inaccessible, is not a very good one, as it slopes from end to end, but I hear that the club where somewhat hurried in their choice, and the number of places at all suitable was found to be exceedingly limited.
---