The Fleet's In Town!
Henry Robinson c.1924
The information and photographs for this article have all been provided by Herbert 'Bert' Robinson, now aged 88 and one of Henry Robinson's six sons.

On our front cover are twenty six men and women posing for their photograph before they embark on a day's outing in the early 1920s. Their point of departure is Burton Street just down from and on the opposite side to the Guildhall; behind them stands Holy Trinity Church and the junction with Trinity Square. The means of conveyance for the occasion was a twenty eight seat charabanc, part of the 'Grand Fleet' belonging to H. Robinson and Sons. The firm's card, reproduced below, shows this to be a Lenton firm, but as you will shortly discover not one that was destined to survive here all that long.

In 1919 at the age of 48 Henry Robinson considered that he had made sufficient money to enable him to retire from business. He and his wife, Abigail, together with those of their nine children still living at home, moved from Nottingham to a house in Newark. But a life of self-imposed idleness did not suit and when Mr Robinson successfully backed 'Grand Parade' to win the 1919 Derby he decided to invest his winnings in a new charabanc and hire it out for day trips. At much the same time he received a letter from his sister—in-law, then resident in Old Lenton, who told him that Clayton's Wharf was on the market. The wharf and accompanying property could be found on the northern bank of the canal just off Gregory Street and took its name from William Clayton who operated a coal and timber business there in the latter part of the nineteenth century. Henry Robinson decided to acquire it, resume a former career of coal merchant and combine this with his new interest in charabanc hire. The Robinsons moved to Clayton's Wharf in June 1920.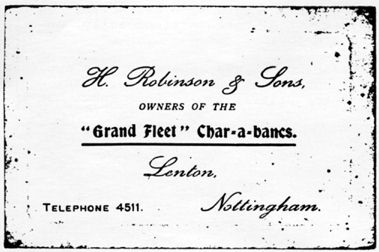 There weren't many coal merchants in Nottingham yet who had a lorry to transport their coal but Henry Robinson immediately went out and bought two at auction from Haylock's Repository, situated approximately where Ritzy (the old Palais de Danse) on Parliament Street can now be found. One was an Albion, the other a Dennis and each cost £40-£50 with his coal yard positioned alongside the canal it also made sense to invest in water transport and Mr Robinson acquired two barges. Most of the time these were employed to bring coal to the yard but gravel was one of the other cargoes. 4,000 tons of gravel were ordered for the construction of Thomas Forman's new printing works on Hucknall Road. Bert Robinson recalls that the gravel would initially have to be shovelled out of the barges on to the wharf. Then it was loaded in similar fashion on to a lorry and once it had reached its chosen destination it had to be shovelled off again. Using a lorry meant the size of the load was much increased while the time taken to deliver it substantially reduced. Consequently you spent much more of the day with a shovel in your hands.

One of the buildings at Clayton's Wharf was rented out to someone who made fire lighters there. In 1922 the premises went up in flames, resulting in bankruptcy for that individual, so Henry Robinson decided to take it over. Bert Robinson related that the fire lighters were made by tying four sticks of wood together with wood shavings packed inside. Then the whole was dipped into a barrel of naphthalene, obtained from the Gas Works at the bottom of Faraday Road. They were subsequently delivered on one of Mr Robinson's lorries to shops in Nottingham and as far afield as Radcliffe on Trent, Long Eaton and Derby.

In 1921 the Town Arms, Plumptre Square, hired four Robinson
charabancs for their day's outing. The photograph shows Henry Robinson
(junior) in the driving seat with the other drivers posing by the rear
wheel (Herbert Robinson is the one standing in the middle).
Henry Robinson's interests in coal, firelighters and charabancs dovetailed together quite nicely. When the demand for fuel slackened off during the summer months the men were able to don their white duster coats and take to the charabancs. After the First World War it became quite the done thing for Nottingham church parties, factory workers, pub groups and the like to organise outings to such destinations as the Dukeries, Hardwick Hall, Matlock Bath, Buxton, Dovedale, Chatsworth Park, Castleton, Stratford-upon Avon, and the ever popular Skegness. The drivers were supposed to restrict themselves to 12 mph but once on the open road the speedometer would frequently register anything up to 38 mph. Bert Robinson remembers he could get from Nottingham to Skegness in three and a half hours and that included a brief stop for refreshment. In some of the outings refreshments figured rather prominently and the names of the hostelries would be a key feature of the chosen itinerary.

Bert recalled one occasion when he'd taken out some 'girls' who worked at the Hicking Pentecost factory, off London Road. The women were very merry even before he pulled in for their final stop at The Reindeer Inn at East Bridgford. At the rear of the premises was a pig sty and the sow had recently produced a litter of piglets. As the charabanc was about 'to leave for Nottingham the landlord came running out demanding that Bert stop while he search the vehicle for one of the piglets which he had discovered to be missing. He couldn't find it and the charabanc carried on its way. On arrival in Nottingham everyone was getting out when one woman drew out the piglet from inside her drawers. She tipsily walked away claiming she was going to keep the animal and adopt it as her new 'baby'. So although the photos might make the charabanc parties appear such upright sets of citizenry, it wasn't always the case — especially on the return journey.

The men who were employed by Henry Robinson to drive his
charabancs and lorries - kneeling is Herbert Robinson. Photo taken
at Clayton's Wharf.
Charabanc outings became popular subjects for commercial photographers. They would ask the drivers to let them know when and where their next trip was planned to start from and they would be there to record the departure. Alternatively photographers based in the more favoured resorts would be waiting for the charabancs to arrive. They would approach the drivers and enquire whether they might offer their services. If the answer was yes, once the shot had been taken, it was a case of rushing back to the dark room in order to print the required number of copies which were handed over before the party left for home. The usual charge was 1s a copy. It was customary practice to offer the driver a complimentary one.

One shilling for a permanent record of the day's outing might be thought a trifle expensive but then the trip itself wasn't exactly cheap. Robinsons calculated their prices on the basis of 2s. 6d. a mile. When you consider that a charabanc held twenty eight people it worked out at roughly ld./person/mile. A trip to Matlock Bath, provided the vehicle was full, probably cost each passenger about 5s., while an outing to Skegness meant an initial outlay of about £1. While we're talking facts and figures, readers may be interested to learn that charabancs did about 7 miles to the gallon, at a time when petrol was sold for 9d. a gallon. Furthermore a new charabanc would set you back in the region of £1,850.
A brand new charabanc was a costly item but there were quite a lot of people prepared to part with this amount of money. They believed that here was an expanding market and there were handsome profits to be made. Some, including H. Robinson & Sons, clearly made money but others were not so fortunate and were eventually forced to sell off their vehicles. As a result Henry Robinson was able to acquire a number of relatively new charabancs for as little as E600 each. 'Grand Parade' had been the horse that had started him off on this venture and to commemorate the fact the first charabanc had this name painted across its rear. His subsequent purchases were also given the names of some of the other racehorses from the same stable such as 'Grand Duke', 'Grand Disson', 'Grand Chester' and 'Grand Court' - hence the reason why he referred to his charabancs as the 'Grand Fleet'. Apart from Bert there was an elder brother Henry, along with the odd brother-in-law, who were all employed at one time or another as drivers. Bert, however, was the only member of the Robinson family to drive the charabancs throughout the period they were at Lenton. The success of the Robinson business can be judged by the fact that the 'Grand Fleet' eventually numbered twelve. On those occasions when the whole fleet was hired out extra drivers would be sought to supplement the nine who regularly worked for Robinsons.

The men had to have a current driving license but that was hardly a problem. All they needed to do was visit the Guildhall, prove they were at least 17 years of age, fill in the appropriate form and hand over five shillings. After which they would be given a license which allowed them to drive any sort of motor vehicle, be it car, lorry or charabanc. The Army, however, were not so easy going and required their drivers to pass a test. Unfortunately the soldiers based at the Drill Hall on Derby Road didn't have any vehicles of their own. So they were sent to Robinsons for driving lessons in one of the lorries. Bert Robinson would also administer the driving test for which he was paid £1 per person. If the soldiers wanted to practise their weapon skills they went off on the train to Trent Lock, getting out at Trent Station and Robinsons would be employed to transport the rifles and machine guns there in the back of a car.

In 1908 a Trevethick cruiser steams past Clayton's Wharf
later to become the centre of H. Robinson & Sons' operations.
All the maintenance on Henry Robinson's vehicles was carried out by the men themselves. Evidently they did a good job because Bert cannot recall a single instance when a charabanc broke down while out on a trip. He partly ascribes this to the fact that the vehicles had very reliable engines. Punctures weren't a problem while the charabancs rode on solid tyres, it was only in later years that pneumatic tyres were used and then just on the front wheels. This latter development permitted the passengers to enjoy a slightly less bumpy ride but they still had to be pretty hardy souls. The charabanc was open to the elements and mindful of the vagaries of the British weather most people came well wrapped up for the occasion. If it did start to rain the driver could always stop and fix on the canvas roof which normally lay folded down at the back of the vehicle. The sides had no such protection and if the wind was blowing in the wrong direction passengers just had to grin and bear it.

When Henry Robinson arrived at Lenton he was already quite well off. How had this come about? By the time he left school in 1883 at the age of l2 Henry had already saved sufficient money from running errands to enable him to buy his own donkey and cart. He began to travel out to Gedling pit in order to purchase unsorted coal at 3s. 6d a ton. This he brought back to Nottingham and sorted by hand. Much of this unsorted coal was simply rock that had to be discarded but the actual lumps of coal he bagged up and the slack he sold to housewives for use as fuel in washhouse boilers and the like. One of the best outlets for Henry Robinson's coal in those early days proved to be the Lace Market. He was prepared to deliver coal at ls. a hundred weight to businesses occupying the upper floors of the tall buildings that more established coal merchants turned down. The donkey soon made way for a horse and the scale of operations began to increase. The succeeding years saw Henry Robinson move to several different locations in Nottingham as he acquired ever larger premises from which to conduct his coal business.

Much the same scene today [1991] – photo by Paul Bexon. The
canal is still there but much else appears to have changed. One
feature that remains, but in the photo is largely hidden by the second of
the Equipment Outreach trailers, is the building which once served as
the Robinson family home.
Apart from selling coal Mr Robinson was always on the look-out for other business opportunities and he started to hire out ponies and traps on a daily or half day basis. He also began a forerunner of the charabancs when he bought several wagonettes. These were horse drawn wagons with canvas roofs and sufficient seating on two decks for a total of eighteen people. Parties were taken in them all over Nottingham, one of the most popular venues being the local races at Colwick. In 1912 Henry Robinson ventured into the relatively new world of motor buses. These weren't purpose built vehicles but created by taking large motor cars and removing their body work so that a wagonette superstructure could be fitted on instead. In this way sufficient seating was created for about eight people. Perhaps there was already too much competition in Nottingham but whatever the reason Henry Robinson set up his operations out at Grantham. He continued to run the buses throughout the war and they proved exceedingly popular with soldiers stationed in Belton Park who used them to get to and from Grantham.

By dint of Henry Robinson's own exertions and shrewd business acumen H. Robinson & Sons became a very successful firm. The Lenton operations showed every likelihood of going from strength to strength when everything suddenly went wrong. The key event happened at the beginning of 1927 when Henry Robinson contracted pneumonia. He was subsequently to die from this on the 9th of February. He left no will which created a major headache for the family, but there was much worse to come. Bert Robinson, even now, is not terribly sure what the problem was, whether it was death duties, unpaid income tax or something else, but in 1928 it necessitated the sale of all the vehicles and Robinson property at Clayton's Wharf. Henry Robinson's widow, Abigail, received the bulk of what was left and each of the children was given £300. It meant, however, the end of H. Robinson & Sons. Bert's elder brother, Henry Robinson, later became the landlord of the Dunkirk Hotel and Bert himself, after taking a job as a driver with Barton's for a short while, obtained employment as a fitter at Chilwell Depot - a position he continued to hold until 1972 when he retired at the age of seventy.
---