Society Snips
The Leen Mills Revisited
The first of the outdoor meetings took place in May when Tom Leafe showed us some of the sites and buildings discussed in his talk on the Leen mills given to the Society back in January 1990. He began by reminding us of the salient details. In the 1770s George Robinson and his sons established a cotton spinning business and built a number of mills along the River Leen. The business prospered to such an extent that at its peak the workforce numbered in the region of 1,500. Then raw cotton started to come into Liverpool from America and this put Lancashire mills at an enormous advantage. The Leen mills were simply priced out of the market and operations ceased in the 1830s. Other uses were found for the buildings or else they were demolished.

The first of the Robinson buildings on our itinerary was Castle Mill situated on Linby Lane midway between Papplewick and Linby. This had been constructed to resemble a castle with embattled corner towers, quatrefoil openings and pointed doorways and windows. It later became a corn mill but eventually was abandoned to remain in a derelict state until bought by a local builder in the 1950s who converted it into four flats. Although the towers were retained, much of the original features were stripped away; evidently considered at the time too bizarre for the housing market. We then moved on to Moor Pond Wood where the huge mill pond, which once fed Robinson's Grange Mill complex, could still be found. Just down the road were Grange Cottages, two rows of terraced properties built by the Robinsons for their millworkers.

Sadly several stood boarded up and their future looks rather uncertain. From here it was just a short walk to 'Papplewick Lido' and its near neighbour, Grange Farm. Some of the farm outbuildings had originally formed the offices and warehousing of Grange Mill. Nothing of the actual mill still remained but it was possible to pick out the line of the artificial watercourse that once directed water into the mill complex. Then it was into the cars and on to Bestwood where we stopped to view Forge Mill, a three storey stone built property erected by the Robinsons in 1787 and currently part of Bayles & Wylie Ltd., animal feed manufacturers. The Forge millpond still survives although it is now rather silted up. The end of our tour came at St. Mary and All Souls Church in Bulwell where we viewed the tomb of George Robinson, the man behind cotton spinning on the Leen. So it was quite appropriate that it was here we gave our vote of thanks to Tom Leafe, someone else who could be said to spin a good yarn!
Get The Picture?
Whenever we get in contact with an old Lentonian one of our first enquiries is to ask if they possess any photographs of their time in Lenton. The answer is often a regretful no; a reflection of the fact that cameras were not then the common-place possessions that they seem to be today. Occasionally we are more fortunate and the answer is yes. What is then dug out of a drawer is often a class photo and we have now built up a sizeable collection of such photographs; so much so that it was recently decided to give the topic of 'schools' its own special file in our archives. Among the latest additions to this file is the photograph below, courtesy of Vera Ball (nee Broughton) which shows maypole dancers at Lenton Trust Infant School in 1922.
Holy Trinity Celebrations
As many readers will already know 1992 marks the 150th anniversary of the building of Holy Trinity Church on Church Street. The Society hopes to be involved in the celebrations during the year and any suggestions as to what form our contribution might take would be most welcome.

The church bell ringers hope to use their bells, those in the tower and also the set of hand bells, to provide a campanological view of Lenton. To this end the ringers are looking for volunteers, young or old, to join the happy band. There is no need to have been involved in ringing before as full training will be given by the Ringing Master, Steve Manton. The bell ringers are also interested in compiling a full history of the bells and bell ringers to add to the anniversary celebrations and would like to get in touch with past ringers in order to compare notes.
Have Gallows Will Travel
After researching and writing up his findings, in 1981 Terry Lambley published 'Nottingham - A Place of Execution', which he described as 'a collection of interesting facts concerning all recorded executions in Nottinghamshire'. The intervening years have seen him sell over 11,000 copies of the book. His subject matter was always likely to make it a popular purchase but sales have also been helped by Terry's undoubted flair for attracting publicity. This became evident in the course of his talk to the Society last May.

The biggest source of publicity came when Mr Lambley acquired a genuine gallows which he then reassembled in his back garden at Wilford. It is not everyone who has their own gallows and the nation's press were soon beating a path to Terry's door, closely followed by television crews from all over the world. The gallows subsequently had the occasional outing at local carnival events, after which came an extended stay at Blackpool where it featured in Madame Tussauds. Recently Terry decided the time had come to part company with this rather macabre exhibit and when the gallows failed to reach its reserve price at auction he chose, instead, to give it to the Prison Museum at Rugby. Having treated us to the story of his gallows Mr Lambley then turned to the subject of his book which he discussed in an equally entertaining fashion.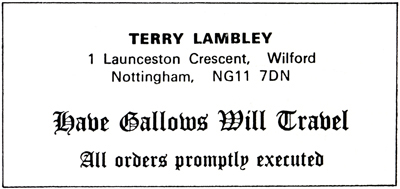 Most towns had a traditional spot at which their gibbet or gallows was erected and Nottingham's 'Gallows Hill' was to be found at the top of Mansfield Road at the point where the present day Forest Road crosses it. In former times miscreants would be dispatched by removing the cart on which they stood and they would be left hanging there. Sometimes it would take a considerable time for them to die and to shorten their agony friends would sometimes be allowed to hang on their legs and pull. This, we were reliably informed, is the origin of the phrases 'pulling one's leg' and 'hangers on'. Public hangings attracted huge crowds. You get some impression of this from the fact that at William Saville's hanging which took place outside the County Gaol on High Pavement in 1844, over a hundred people were seriously injured and twelve others killed as a result of being crushed or trampled on after a disturbance began in the crowd. Among the dead were two children from Lenton. In 1868 Parliament put a stop to public hangings. Thereafter locally they were carried out within the confines of the County Gaol, the Town Gaol on St. John's Street and more recently at Bagthorpe, later renamed Nottingham Prison.

At the conclusion of his talk Mr Lambley was congratulated on an excellent discourse - both informative and entertaining - on a subject that could so easily have been merely gruesome and macabre. Displayed above is Mr Lambley's card. Now that he has disposed of his gallows Terry admitted it should read 'Had Gallows, Would Have Travelled'.
---