---
The Society was formed in 1973. Its specific aim was to foster an interest in Lenton Priory but this soon developed into a general
interest in the history of the locality. Old and New Lenton, Lenton Sands and Dunkirk, the Lenton and Dunkirk Industrial Estates, plus the Lenton Abbey and Wollaton Park housing estates are all considered now to fall within the Society's area of interest.

Over the years we have built up a substantial archive of material relating to Lenton. This includes books and articles, newspaper reports, and a wide range other printed material. Photographs loaned to the Society have been copied and we now have a collection of several thousand historic photographs plus a number of taped recollections made by former residents most of which focus on life in Lenton during the first half of the twentieth century. Those wishing to gain access to this archive should contact Cliff Voisey. The archive is presently kept at Cliff's house although, in due course, the Society would prefer to see it housed in a building which would offer easier access to the general public.

The Society mounts a regular programme of talks and outings. The talks are now held in the church hall attached to St. Mary's Church, Wollaton Hall Drive, off Derby Road and will take place on the second Wednesday in the month.
---
The forthcoming programme is as follows:-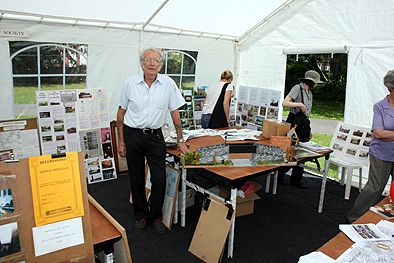 Wednesday 14th January
History of Nottingham Hospitals by Paul Swift

Wednesday 11th February
Hot Liquid Pleasures 1650-1750 by Carol Barstow

Wednesday 11th March
The Society's AGM followed by Cartoons and Caricatures by David Darby

Wednesday 8th April
Were the 70s So Bad? by John Whitfield

Wednesday 13th May
The Buildings of Watson Fothergill by Kurt Hatton

Wednesday 10th June
No Meeting

Wednesday 8th July
Life and Travels by Stephen Flinders

Wednesday 12th August
Pied Piper: The Evacuation of Children in World War II by James Joffey

Wednesday 9th September
Watch the Birdie - A Look at the Early Years of Photography by Sue Clayton

Wednesday 14th October
Dairy Farming by Jane Barnes

Wednesday 11th November
Lady Arbella Stuart: The Queen That Never Was by David Templeman

Wednesday 9th December
The Society's Christmas Party
Our meetings take place in the church hall attached to St Mary's Church, Wollaton Hall Drive, Wollaton Park and start at 7.30 p.m. Admission is now £3 per person which includes light refreshments taken during the interval. All are most welcome to attend.
---
The Society produces a periodic newsletter which is distributed to its all members who also receive the current edition of Lenton Times, the Society's magazine.

Individual membership of the Society is currently £5.00 and anyone living in the British Isles who would like to become a member is asked to send a cheque made out to 'Lenton Local History Society' to our Membership Secretary. The rate for those living overseas is £7.00.

Any general enquiries about the Society should be directed to Cliff Voisey.
---
Contacts
Cliff Voisey, Hon. Secretary, 53 Arnesby Road, Lenton Gardens, Nottingham NG7 2EA. Tel. 0115 9703891.
Sylvia Taylor, Membership Secretary, 18 Hawton Crescent, Wollaton Park, Nottingham NG8 1BZ. Tel. 0115 9700380.
---